| | | | |
| --- | --- | --- | --- |
| Football Supporter Map of London | | | |
Monday, 17 January 2011 19:38
Click on map to view a larger version of the map.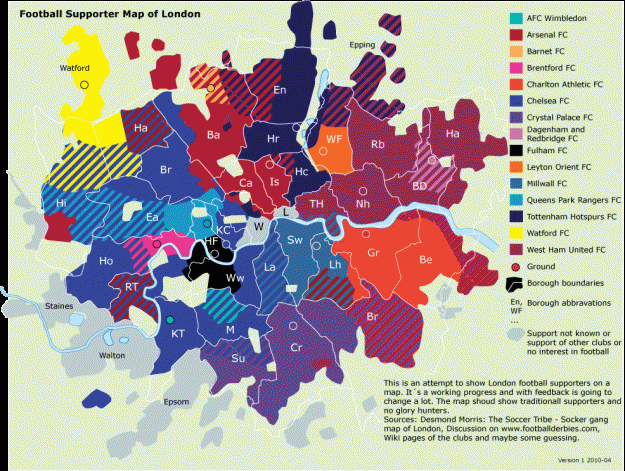 Last Updated on Monday, 26 September 2011 00:45
| | | | |
| --- | --- | --- | --- |
| Hodgson's Fairy Tale Ending Never Came. | | | |
Friday, 07 January 2011 16:48


The New Year has come and gone and Liverpool's results have not gone the way Roy Hodgson would have liked. I'm sure when the clock struck midnight; Hodgson was hoping for one thing to go right for the New Year and that was to have a job by guiding Liverpool to wins.

Since the game against Newcastle in early December, Liverpool was lucky to have won one game, which was against Bolton. That win was down to a linesman who is blind since that result should have been a draw. The other results since December are losses or draws and the performances are woeful to say the least. How have the mighty Reds fallen so fast this year? Some will want to blame Rafa Benitez, players or Hodgson. Some could even argue it's a culmination of all of that. However, since we are talking about this 2010-2011 season I will point the finger at Hodgson and why he needs to go.

The majority of Liverpool supporters I've heard on the radio, spoken to and read the comments on forums all want Hodgson to go. There are a few of you who continue to want to give Hodgson time to develop his team with his players. I will begin with explaining how giving him time will not make a difference of improving Liverpool now or in the future.


Last Updated on Saturday, 08 January 2011 00:27
Read more...
| | | | |
| --- | --- | --- | --- |
| Liverpool Versus the Premier League | | | |
Monday, 03 January 2011 00:20
As we head into 2011, Liverpool football club are at a point that sums up the miserable couple of years that their fans have had to endure. Roy Hodgson may have escaped the axe for now, thanks to Joe Cole`s late late winner against Bolton on New Year`s Day but at this point it`s impossible to see Liverpool aiming for anything better than a Europa league place at the end of May.
It seems an awful long time now since the club`s dominance in the 70`s and 80`s and hard to believe it`s just six years since their improbable European Cup triumph in 2005, their last major honour. Equally however, it`s difficult to understand just what has gone wrong.

Rafael Benitez, as much as Hodgson, still seems to be attracting a fair proportion of the blame over his signings. Alberto Aquilani and Andriy Vorodin to name but two, currently lay testament to Benitez` profligacy in the transfer market. So far Hodgson`s most telling acquisition may be Paul Konchesky, a capable journeyman but a player many feel just isn`t good enough for a club like Liverpool.
Certainly poor transfers are getting the blame in some quarters and Hodgson himself has played the new manager`s traditional trump card and said `this isn`t my team`. We`ll know very soon if he gets the chance to do anything about it.
Injuries are the second most obvious choice as the catalyst for a club`s poor campaign and it`s true that any side would struggle without its two key players, namely Gerrard and Torres who have been absent for a fair portion of the season. However, if you look at other sides at the top, all of them go through this at some stage, it`s just strength in depth that makes them cope
.
The fact is, if you look at the track record of Liverpool`s signings, their statistics show that they`re not poor players and maybe they just haven`t adapted to the rigours of Premiership life. A good example of this was put before everyone who witnessed the club`s game away at Stoke last season. There may be other examples but if a side has physical issues, Stoke will highlight them and in the end the hosts` game was just too much for their visitors and in basic football terms, Liverpool just didn`t seem to `fancy` it.
Equally though, sides around them just seem to progress, while Liverpool have at best stood still. Tottenham have improved steadily under Redknapp while Manchester City now look set to reach the heights that their open cheque book demands.
The rest of the season seems crucial to Liverpool`s long term future. Without European football of any kind it will be difficult to attract players of the calibre that will put them back amongst the elite and although Gerrard at 31 may have missed his big money move, it seems unlikely that Torres will hang around too long to see who he`s drawn against in the early rounds of the league cup.

So a Europa league place is a must and it will be fascinating to watch the next few months of football streaming online to see if Liverpool can achieve it.
Last Updated on Monday, 03 January 2011 00:28
| | | | |
| --- | --- | --- | --- |
| Rafa Marquez officially leaves Barcelona | | | |
Sunday, 01 August 2010 14:32
Rafa Márquez made his public farewells to the club this evening in the Sala Paris – a fitting location for the adieu of one of the heroes of the 2006 Champions League winning team.

Just after six o'clock this evening, Rafa Marquez, flanked by club President Sandro Rosell, made his appearance in the Sala Paris at the Nou Camp. The Mexican bid farewell to the club where over seven seasons he has become the eighth foreigner to make most appearances. Meeting with the President Márquez had previously been received by the President in his office and was accompanied in the Sala Paris by Josep Guardiola, club captain Carles Puyol and Andoni Zubizarreta, as well as Director of External Relations Manel Estiarte and the boss of the Football training area, Jordi Mestre, all of them keen to show their respect for the departing Mexican.
Standing ovation Rafa Márquez is not known for wearing his heart on his sleeve, but he was close to tears after his farewell speech when he received a long standing ovation from all present. Márquez also admitted that his most special memory at the club was the 2006 Champions League win in Paris and the huge mural celebrating that win on the wall of the Sala Paris proved a fitting backdrop to the farewell of a player who gave so much to the club.

If you you follow the Spanish La Liga. Come back to Forum-For-Football.com for fan updates and latest news. If you would like to place a free bet on Spanish La Liga we recommend you visiting Free Bets Uk.
Last Updated on Saturday, 23 October 2010 08:45
| | | | |
| --- | --- | --- | --- |
| Barcelona off to a winning start | | | |
Friday, 30 July 2010 15:10
Barça have started the preseason with a win away to Norwegian side Valerenga. Víctor Sánchez, Maxwell, Benja and Keita scored the visitors' goals. Adriano Correia made his debut in the second half.

Barça have got off to a great start, with a line-up containing mainly reserve team players, but that was still able to show the Scandinavians just what Barcelona's football is all about. They played lively and effective football, and went ahead twice in the first half thanks to exquisite goals from Víctor Sánchez and Maxwell. Valerenga scored in between from the penalty spot. The second half saw the game grow in intensity, with Adriano coming on at half time. Barça sentenced the game with goals from Benja and Keita. The home side, with fresher legs, kept fighting and managed to pull one back to make it 2-4. Making tests Pep Guardiola used all five of the first team players in his starting line-up: Pinto, Milito, Maxwell, Víctor Sánchez and Bojan, who was made captain and played wide on the left. The manager also used Jonathan dos Santos in midfield. The Mexican added fluidity to a dominant Barça side, and it was he who shot first, but saw his effort turned away by stopper Hirchfeld (min 11). Víctor Sánchez scores first The opening goals came soon after. In the 12th minute, on a damp surface, Víctor Sánchez had the honour of scoring the first goal of the preseason, following a one-two with Jonathan Soriano, and finishing off with a devastating strike. Valerenga, who are second in their league, replied with confidence. Singh soon pulled level with a penalty blown somewhat rigorously against Milito. Maxwell puts FCB ahead again As if nothing had happened, Barça kept pushing forward, trying with a series of long efforts that came close to finding the net. The Norwegians, meanwhile, allowed Barça to dictate the possession and hoped their strikers could deliver the goods. José Manuel Pinto was called upon on several occasions, before in the 35th minute, a powerful drive from Maxwell from the edge of the area went straight into the top left corner of the goal defended by Hirchfeld. Change of team in the break The Barça eleven was completely changed at half time. Guardiola even switched from 4-3-3 to a 4-2-3-1. The majority were reserve team players (8), while the captain's armband was passed on to Keita, and Adriano came on for his debut on the left. There was a particular cheer for the entrance of Ibrahimovic. The second half started strong, in the 52nd minute Benja took advantage of a defensive error by the home side to make it 1-3. Raining goals Barça were feeling more and more comfortable, and Keita then scored the fourth with a delightful header in the six yard box, following a cross from Edu Oriol (min 64). Valerenga once again showed their capacity to react and bounced straight back through Zagic, who beat Miño with a terrific strike from twenty metres (min 65). They could have even come back to within one goal, but Fellah's free kick hit the bar. Great Adriano The Valerenga changes and tiredness on a rainy evening meant the pace eased towards the end. Miño made up for the goal conceded previously by making two great saves. The Oslo based side made good of their stronger physiques and continued causing problems for a Barça side that had eased off in attack. The most active Barça striker was certainly Adriano. Hirchfeld was called on to stop him from scoring his first goal for his new club on several occasions. A good debut.
Monday, 21 June 2010 09:09
While many star players like Drogba and Adebayor come from Africa, the teams of their continent have never really performed in the World Cup finals. But what better time will there ever be for an African team to be successful in the competition? The World Cup is in their continent, so maybe their teams will finally step up onto the world stage.
Africa has 5 teams in the world cup and so far only one of them has won a match. Ghana seems to be Africa's best hope of leaving the group stage as they currently lead Group D with one point more than Germany. The two teams meet in two days to decide the winner of the group, Germany have odds of 8/15 with to win the match whilst Ghana have odds of 11/2.
Things looked grim for Africa when its highest ranking team, Egypt, missed out on a world cup spot to Algeria after they both got the same number of points and the same goal difference in the qualifiers. Algeria won the play off 1-0. After drawing with England, Algeria has only one point in Group C, making qualification very unlikely.
Partybets has various odds for an African team to make the last 16.
South Africa will be hoping to avoid becoming the first host nation ever to not reach the last 16 tomorrow when they face a struggling French team. To have a hope of qualifying they need to beat France by 5 goals or more and they need Uruguay to nil Mexico.
Last Updated on Monday, 21 June 2010 16:15